Load coupling shaft should be at the Generator side before installation of the turbine rotor. This will make a sufficient room for the female rabbit at the turbine rotor aft flange. Moreover, a soft piece should be attached, to any one of the flange, for preventing the rubbing of the flanges, while rotor placement. Some of the lube oil should be poured into bearing lower halves before placement of the journals.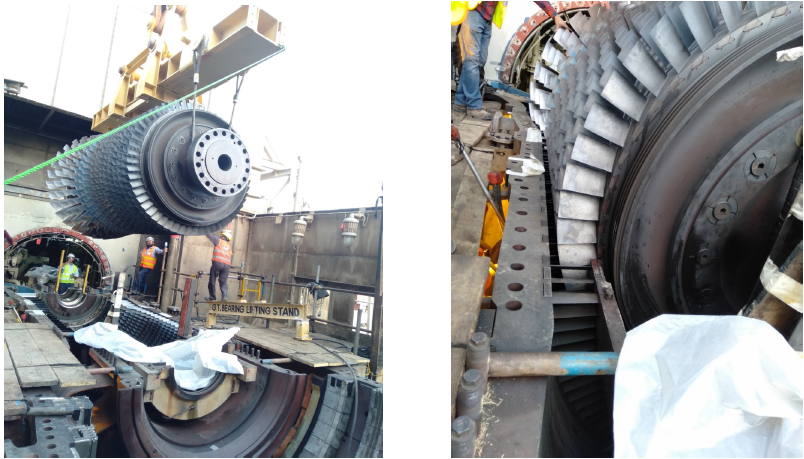 Compressor Rotor Installation

The bearing stand should be mounted on rotor prior to installation. The rubbing ring for supporting the IGV segments should also install before, this will help in adjusting the compressor rotor . Compressor clearances should be important to consider, and keep checking during compressor rotor landing. As, the journal rests on 1st bearing and thrust collar is inserted into the thrust housing, the U-clamp at bearing stand should be tightened in proportion to 1st journal resting. The clearance at aft side of rotor is to be attained for assuring the rotor blades are not in contact with casing.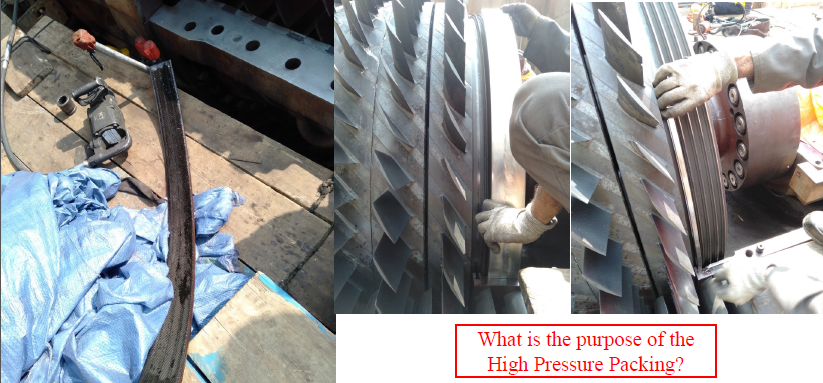 High pressure packing is composed of brush seal and honey comb seal, inserted into the casing. Compressor rotor aft labyrinth rotates against the honey comb seal.
Coupling Engagement

All the coupling bolts are brought in pairs, contain equal mass. Length of each pair is first recorded by means of outside micrometer. The access holes in the coupling are first numbered according the bolts wheel pattern. Then, bolts in pair are inserted parallel into the access holes of couplings.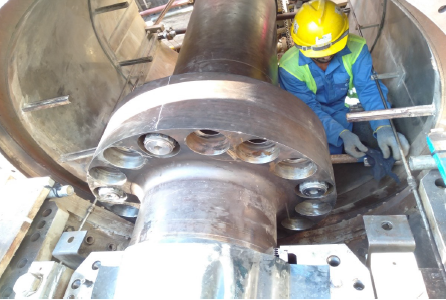 For the engagement of the marriage coupling, the compressor rotor should be at active side. The thrust bearings (old or new) should be introduce before coupling engagement. So that, the clearances of compressor and turbine are adjusted. The U-clamp at aft side of the compressor rotor should be adjusted for making the compressor coupling hub aligned with the turbine coupling hub. As, they are centric, bolts are inserted and tightened in parallel fashion.
Source of Tightening the bolts;

Hydraulic Pressure (Avanti)
Hammering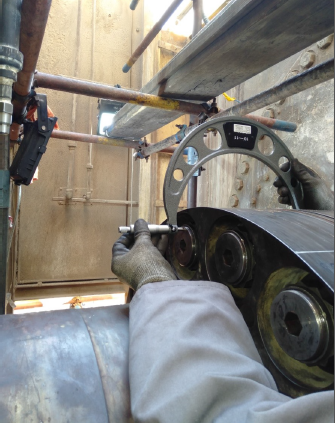 The bolts are torqued to metered elongation of 10 to 12 thou. The bolts in pair should be elongated to same value. Turning may require for the lower half coupling bolts tightening.